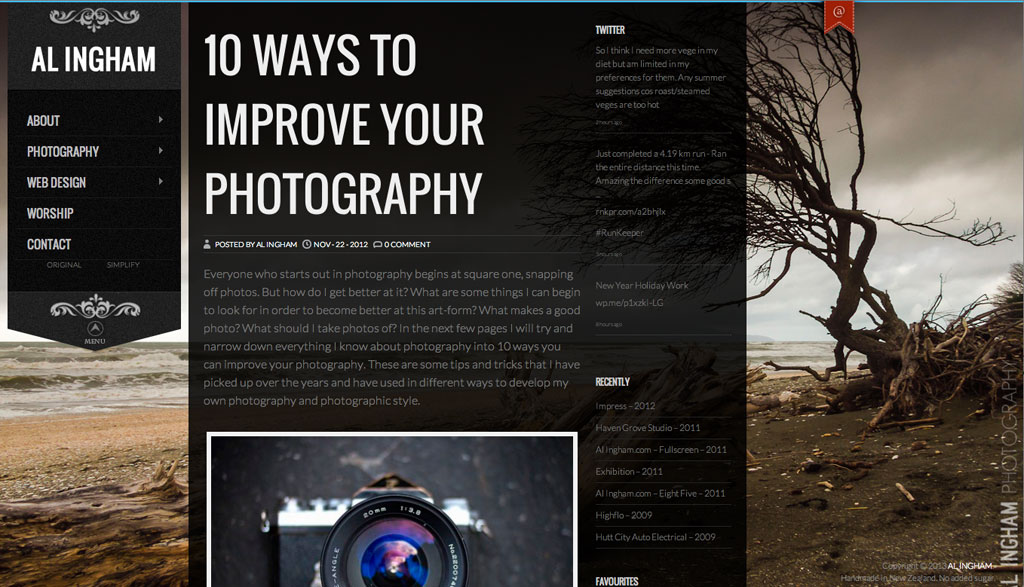 Wallbase is another WordPress theme that I've taken and modified (within the Terms of Use) to suit my own website. It features fullscreen photos that I upload in WordPress as a slide. It then rotates through each of the slides as requested.
I have installed a range of plugins, including the ability to load in a new page without refreshing the browser screen. I have also developed some different page templates for different parts of the site, including pages, single posts, portfolio posts, and photo galleries.
When people arrive, they are met with a closed navigation tab, and the full screen spread of my latest photos. These cycle through one at a time for about 7 seconds each with a fade transition between each one.
I have also managed to develop a style switcher for this theme, where if people are finding the background distracting, they can go to a minimal background pattern which is a brushed aluminum. Future plans include a theme that integrates my plush theme from an earlier web design.
Another development I have implemented into this website for the very first time is the idea of Responsive web design. This is the idea of applying different styles to the website depending on the size of the browser window. This enables the site to adapt depending on the browser window size, or in fact, the device that the user is viewing with. This could include tablets and mobile phone. The main base of the site stays the same, whilst the CSS changes the layout of the site to enable it to fit into smaller sizes. I even developed a little message in the footer to notify users that they are viewing an adapted version of the site.
Features:
WordPress theme
PHP
CSS
HTML
Fullscreen background photo
Slide and Hide menu and other tabs
Page templates
Galleries with 500px integration (using Photonic plugin)
Style switcher
Responsive web design